It's a happy day for me!

Happy one year blogiversary to Some Days Are Diamonds! I can't believe it's been a year already!

To celebrate - I'm having - yup! you guessed it! - a giveaway.

It's a pink thing! Just in time for Valentines Day!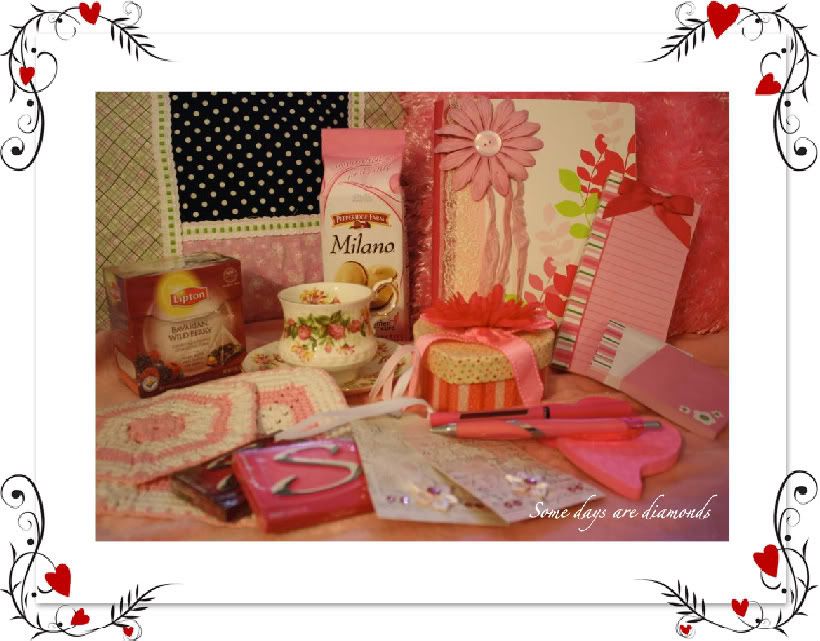 Everyone needs notepads and post its - right?

And a pink pen or two to write with?

How about some pink gift tags I made special for you?

How would you like to nibble on some of these . . .

While sipping my favorite pink berry tea in a

pretty vintage pink berry teacup?

Maybe a pink hotpad or two?

A cute little glittery heart shaped box - who knows what might be inside!

Gum anyone? Pink of course . . .

To enter my giveaway - just leave me a comment on this post. I will announce the winner one week from today on January 22nd.
By the way - Connie from
Living Beautifully
is just a doll! She has helped me so much in learning a few tricks of the trade for my Mac. This woman is a genius! "Watermarks? No problem!" She called me on the phone and we talked for over an hour. I learned so much! I even made the new Titles on my sidebar! Thank you Connie! HUGS!
Hope everyone has a wonderful weekend!!!!
XOXOXO